Insulation Systems for Gas Turbines
Gas Turbines are an indispensable component in a wide variety of sectors and industries. Their proper and safe functioning accordingly has a decisive influence on the economic efficiency and productivity of the operation as well as on the increasingly relevant energy efficiency. Customized and optimal gas turbine insulation can significantly reduce energy consumption while increasing turbine performance.
As a global leader in the development, manufacture and assembly of high-quality and sustainable turbine insulation systems, we work in all areas with state-of-the-art technology that not only meets current standards, but sets them.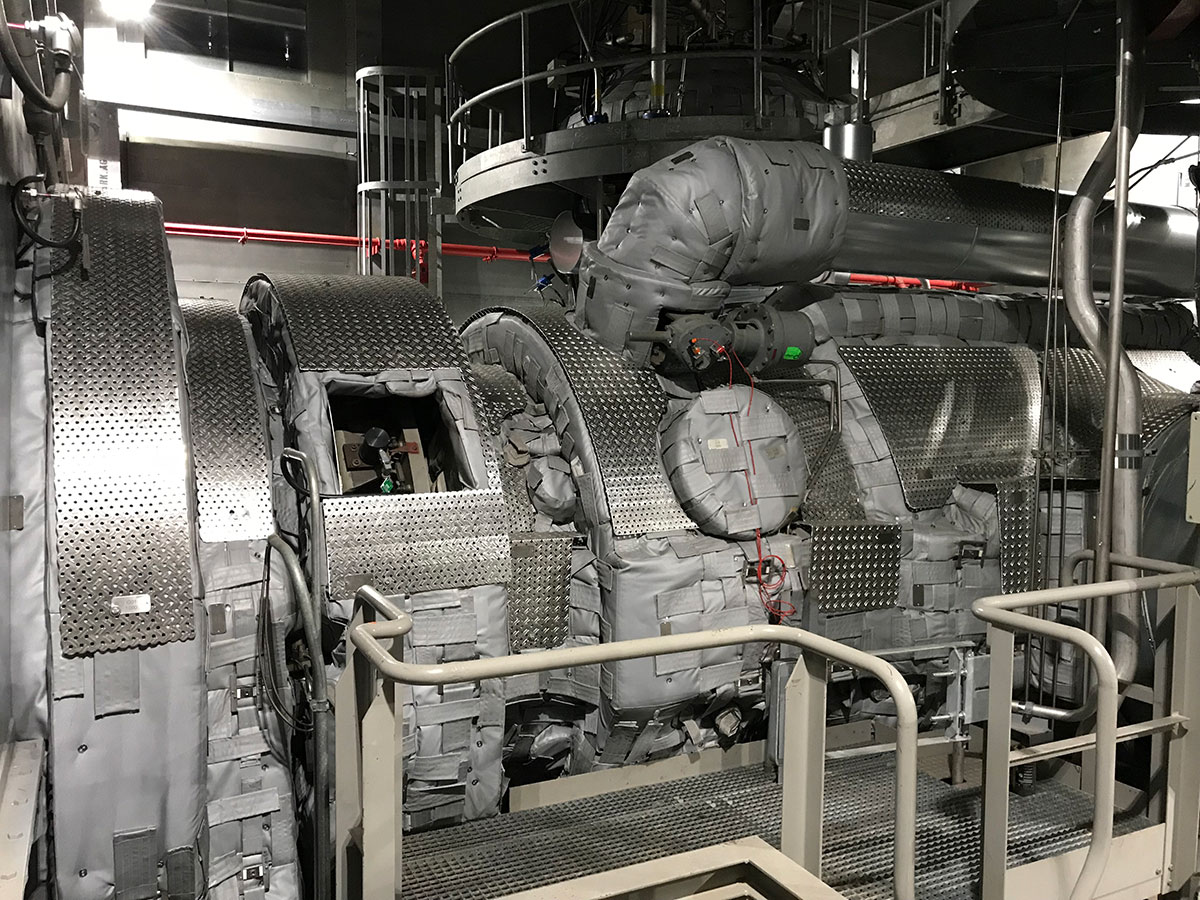 We offer gas turbine insulation for various manufacturers and models – from Siemens and GE through MHI and Alstom to STC and Power Machines Russia and many more. Let the innovation and market leader convince you of single-layer insulation systems.
Find your own gas turbine:
High-quality insulation materials for the most demanding requirements
We develop far more than just individual insulation solutions for all common gas turbines. Even for larger-than-average and very complex models, we can guarantee rapid production of our turbine insulation thanks to innovative technical aids such as CAD systems or CAD-CAM manufacturing technologies. You can always rely on consistent quality and perfect fitting accuracy of the insulating pillows and therefore professionally optimize your industrial plants.
Conventional insulation systems are a part of the past. In order to fulfill the highest technical standards and to develop solutions that ensure ideal insulation even in complicated gas turbines, ARNOLD uses only the latest technical fabrics and insulation materials. All materials used in our turbine insulation effortlessly resist the extreme demands of power plants and industry. Gas turbines pose particular challenges for insulation, especially because of the intense heat they generate. Needled or microporous insulation materials from ARNOLD therefore retain their shape even at very high temperatures and achieve particularly effective thermal insulation thanks to their low thermal conductivity.
First-class quality is also our benchmark and top priority for gas turbine insulation. To deliver this at all times, all products are regularly tested and evaluated in our in-house test facility. The result and your advantage: With ARNOLD you can be sure of excellent insulation results as well as sustainable and environmentally friendly use of resources.
Furthermore, with ARNOLD turbine insulation systems you benefit from:
We offer gas turbine insulation for various manufacturers and models – from Siemens and GE to MHI and Alstom, STC and Power Machines Russia, and many more. Let the innovation and market leader in single-layer insulation systems convince you.